Abedi Ayew
, known professionally as
Abedi Pele
(born 5 November 1964) is a former Ghana International football player and captain. Having been given the nickname "Pelé" in recognition of his superior ability that evoked comparisons to Brazilian great
Pelé
, he found fame in
France
's
Ligue 1
with
Lille OSC
and
Olympique Marseille
and was named African Footballer of the Year in 1991, 1992 and 1993. He was named as one of the
top 125 greatest living footballers
in March 2004. Two of his sons,
Ibrahim
and
André
became also Internationals for Ghana and were selected for the FIFA World Cup 2010.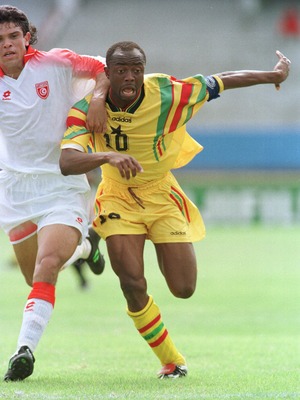 Abedi Pele was one of the pioneers of African football in Europe. One of the first great African players to make an impact on European club football, he played for teams in Switzerland, Germany, Italy and most famously France where he was very instrumental in Marseille's prominence in the European Champions League during the early 1990s. Amongst his international accolades, he was often included in FIFA "All-star" selections and captained the African all-stars in their victory over their European counterparts in the
Meridian Cup
of 1997.
He was the captain of Ghana's national football team for 6 years (1992–1998) and was one of the first African football players to finish highly in
FIFA World Player of the Year
lists in 1991 and 1992. He is arguably Africa's most decorated and honored football player ever, winning the
France Football
Magazine African player of the year award 3 times, the BBC sports person of the year, and the
Confederation of African Football
version twice. He was also awarded the golden ball award for being the best player at the 1992 African Cup of Nations, and was the "man of the match" in
Marseille's
historic European Champions League final win over
Milan
in 1993.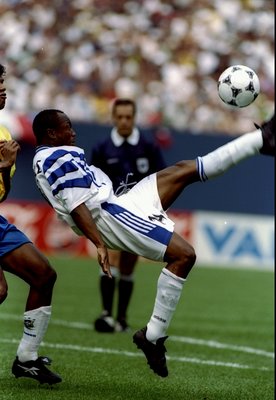 Abedi Pele played for Ghana 73 times and is considered the greatest football player in his country's history, and among the best in Africa. He is the top goal scorer for Ghana's Black Stars in its 50 year footballing history with 33 goals. He was a fixture in the African Championships of the 1980s and 90s with his national team, and a member of Ghana's victorious team in the 1982 African Cup of Nations, but he never had an opportunity to play in the FIFA World Cup, as the
Black Stars
failed to qualify for the competition during his career. However, he was arguably the most dominant figure on the African football scene for nearly a decade. His stunning performance earned him the added nickname of "The African
Maradona
". [source :
Abedi Pele
]